Tea Processing Steps
harvest– depending on local conditions, tea is picked from early spring (ie Darjeeling first flush) through to autumn. The best teas are produced from the top bud and 2 the final tea. (spring leaf is more delicate for example.) [W,G,B,O,P,F]
withering– the fresh leaf is spread on racks in the cool to partially dry (up to ½ to ⅔ weight loss) and become soft to facilitate the rolling process.
(oolong tea has withering and oxidation steps together, as the leaf is shaken in baskets to bruise and oxidise the outer edge.) [W,G,B,O,F]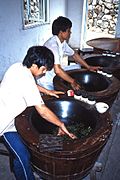 .pan firing/steaming/fixing/kill green– the fresh leaf is fired in a large wok, or steamed, to destroy the enzymes and reduce fermentation to as near to zero as possible and soften it for the rolling step. [G,P]
rolling– high quality teas are hand rolled while others are rolled by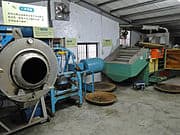 machines.(which is up to 70 times faster but often breaks the delicate leaf.)
Rolling breaks the cell walls of the leaf, allowing the enzymes within to come in contact with the air and oxidise.
The slower unfurling of the rolled leaf (twisted into a ball or long) allows the flavours of the tea to release more slowly resulting in a tea of more depth. [G,B,O,P,F]
fermentation– the rolled leaf is left to ferment and develop the complex flavours of each particular tea. Closely monitored, this process may take from 1-5 hours and is halted when the correct colours and aromas have developed. (usually the longer the ferment the softer the flavour and deeper the colour.) [B,O,F]
firing– this step halts the fermentation process and dries the tea to within 3% of its' moisture content. Done in large woks or ovens, and depending on the level of fermentation, this process also reveals the final colour of the tea leaf (the more the fermentation the darker the colour) [G,B,O,F]
aging / curing– some teas require additional aging or secondary fermentation to mellow and sweeten the brew. (ie pu erh teas are re-fermented and some oolongs are aged after being charcoal fired.
Teas are flavoured in this step by having flavourants added (ie jasmine flowers or bergamot essential oil, chai spices…) [O,P]
[W- white, G- green ,B- black(red), O- oolong , P- post-fermented  , F- flavoured teas]
theteacatcher.com.au