Mangalam Estate Assam Golden Tips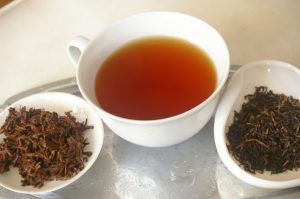 Discovered in 1823, Assam is the only other region, apart from China, with native tea plants – Camellia sinensis var. Assamica. Assam tea is generally black, grown in the lowlands at sea level, and often sold as "breakfast tea".
In Assam today, we will also find high quality, orthodox (leaf) tea, with a nobility and richness comparable to Darjeeling teas. The best Assam teas are, with some exceptions, harvested in May and no later than early June.
Famous for their full, fresh, malty aroma and distinctive, sparkling, orange-copper coloured, full bodied infusion that tastes of ripe fruit and malt.
An excellent tea from one of the best gardens of Assam, the Mangalam Estate grows high-quality, monoclonal tea plants, resulting in a tea of gorgeous appearance, full of golden tips. The taste is full, dense and rich, with clean tones of chocolate, honey and ripe fruit.
For lovers of big, bold, brassy but classy, black teas (also suitable to drink with milk). Steep a heaped teaspoon for 3-5 min. at 95 deg. C.