2014 Autumn Mengsong Old Tree Organic Red Tea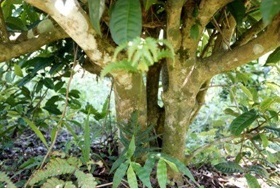 This special tea comes from a single estate on a mountain in the Mengsong area of Yunnan, and harvested in late September 2014. Nowadays old tree or "gushu" red tea (known as 'black' in the west) is very popular, though most teas in the market have one problem- poor processing.
This red tea was created when an experienced puerh tea producer in Menghai invited a Fengqing area tea maker (the home of famous Chinese black/red teas) to help him make good red tea from their organic old tree garden.
Trees in this mountain are from 80-200 years old and grown wild in the forest.
With a wonderful heavy honey aroma, a dark chocolate and honey taste and a sweet, rich aftertaste this rare tea can be steeped many times at approx. 90deg.C for many satisfying cups.
A unique tea, made from beautiful old trees, organically tended and lovingly processed that is well worth trying while it lasts.